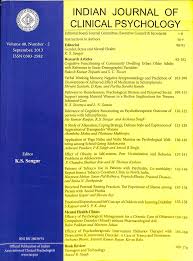 Indian Journal of Clinical Psychology is an official publication of Indian Association of Clinical Psychologists. It is a peer reviewed journal published biannually in the month of March and September. It was started in 1974 and is being published regularly. The journal publishes only hard copies of the journal. However, abstracts may be uploaded on the website of the journal.
The journal has good circulation in various professionals like Clinical Psychologists, Psychiatrists, Psychiatric Social Workers and others who have interest in the area of mental health.
Journal publishes Research Articles, Review Articles, Case Reports, Book Reviews, Brief Communication and Letters to Editor. The journal encourages the articles related to theory based interventions, studies that investigate mechanism of change, effectiveness of treatment in real world setting. Journal also accepts the articles in the area of Women, Child & Adolescents and Community Mental Health. Articles related to epidemiology, critical analysis and meta analysis of treatment approaches, health care economics etc. are also accepted.
Website: http://ijcp.co.in/
PRINT ISSN: 0303-2582
RNI RN 26039/74
UGC-CARE List Group Group-D