The Indian Journal of Psychological Medicine (ISSN 0253-7176) was started in 1978 as the official publication of the South zone branch of the Indian psychiatric society. Dr Abraham Verghese, then Professor of Psychiatry at Christian Medical college, Vellore, was the first editor. The journal is published quarterly.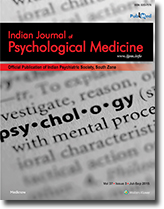 Indian Journal of Psychological Medicine is a peer-reviewed international journal, published under the auspices of the Indian Psychiatric Society, South Zone and covers clinical and experimental studies related to psychology and psychiatry.
It also includes but is not limited to scientific articles, original research, case reports, opinions and letters, latest product information, brief technical communication, book and article reviews and abstracts.