"Busy with cooking & house hold stuff…..feeling exhausted with work meetings & all."
"So difficult to keep children entertained during these times…waiting for normalcy to return."
Read dozens of WhatsApp messages as families struggle with the 'new normal' during Covid -19 lockdown. The current situation has thrown novel challenges at families worldwide and within India too.
To understand the nature and frequency of these challenges faced by families within India a nationwide survey of 450 married couples from different walks of life was conducted using the online method. Questions centred on household responsibilities, office work, care of children and the elderly and aspects of socialisation.
Demographics revealed that 45.3% of the couples who responded to the survey focus on official work for approximately three to five plus hours daily during lockdown. 60% of them have young children and 47.3% have senior citizens living with them.  
A few of the common family challenges identified by the survey were
Juggling of housework and office work
More than half (56%) of the respondents juggle housework and office work more than once in a day with a minuscular population (12.7%) of them experiencing this scenario very frequently during the day. They related incidents where they answered official calls with vacuum cleaner in the other hand, positioned lap tops on kitchen platforms or changed diapers while using head phones for office briefings 
Care of young children & elderly
A large number (63.3%) of the couples who answered the survey have arguments over which spouse would volunteer to take time out for family responsibilities as the other concentrates on official work. A substantial number (36%) of them face the problem of both having urgent meetings at the same time. This results in a lot of background sound from the children, many found children on their lap during web meetings sometimes disrupting the meeting or having animated conversations with their colleagues.
The purchase of essentials has become an ordeal due to social distancing and standing in long queues. Though only 32% of the couples surveyed face a tough time in negotiating who would take the turn for purchasing of essentials. Sometimes there are problems when the wrong products are purchased or important ingredients are missed out leading to blame games or altering the menu which sometimes leads to disruption in the plan of the day.
The lockdown has provided an opportunity for uninterrupted conversations within the family. This was evident from the results as a huge population (87.4%) of the couples who answered the survey enjoyed intimate conversations more than once a day. But unfortunately sometimes the conversations veer towards old painful memories. These according to the respondents were personal misunderstandings, critical evaluation of each other, stock taking of each other's mistakes done so far or family conflicts. A few (30%) of the respondents vouched for these conversations resulting in ruining the day and impacting peace within the family temporarily.
It is human nature to require periods of 'me time' for unwinding and relaxation. Results of the survey indicated that a substantial amount (41.5%) of the respondents occasionally complain of having no 'me time' and few of them (25.6%)  face this situation very frequently. They are burdened with family responsibilities and official work and the little free time they have they prefer to unwind with family members
At the same time the importance of socialisation with one's peers cannot be undermined which is impossible during lockdown. Quite a large number (56.4%) of the respondents endorsed the fact that they sometimes miss the outing with friends while a limited number (17.4%) of them miss it very frequently.
The need of the hour is better coordination and compassion towards each other and maybe endorsing the following routine within ones family.
TIPS FOR MEETING CHALLENGES:
Have a division of work for every day, include children as well by giving them errands which they can complete easily.

Plan breakfast, lunch and dinner the previous day and keep ingredients ready. Include children in washing vegetables, removing boxes for storing the ingredients etc., both spouses can chop, peel fruits, vegetables etc. together making daily chores a fun ritual.

Have a slot designated for family time maybe late evenings without social media, have interesting conversations, relate own life experiences, narrate stories, include senior citizens as well who can provide a lot of interesting information. This will help in inculcating correct values in children and they would understand the intricacies of life better.

Spouses should discuss their schedule for the next day with each other so that they are aware of each other's busy and free time and accordingly plan the care of the elderly and children.

Plan children and senior citizens time so that they can be involved with activities when parents are busy. Children can be encouraged to draw, colour, read books, listen or read aloud stories with grandparents or play board games with them.

Bond with extended families and peers through social media.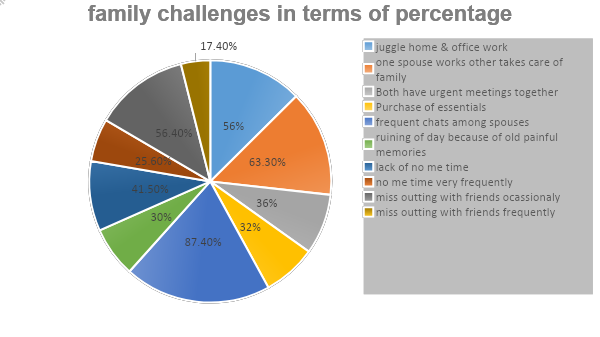 On a more positive note when respondents were asked about their daily pleasurable activities with their families these were the findings…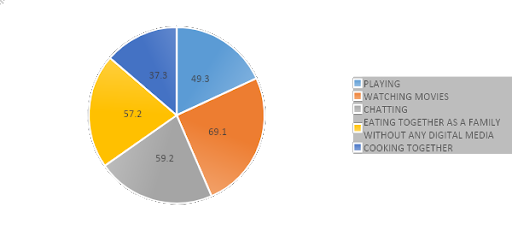 Thus if families utilise this time well, they can make it into a memorable bonding time with each other before the fast paced life begins again post the lockdown.
---
Author: Dr. Rakhi Mehta
Designation: Associate Professor, Department of Psychology
Qualification: MA, Ph.D.
Research Interests: Dr Rakhi Mehta's research interests revolve around investigating & exploring the causes, consequences & probable solutions to issues arising out of an interaction between human factors and the ever-changing environmental, social and psychological fabric of society. Dr Mehta has worked on several research projects funded by Mumbai University and the UGC. She has published papers in national and international journals. She is an avid researcher and has worked on several areas such as Anthropogenic causes of global warming, Impact of Advertising on Children Impact of Teacher efficacy on student motivation to name a few. Currently she is working on the impact of Covid-19 lockdown on family life.